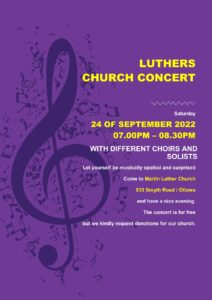 On June, 19th we´ll drive to Petroglyphs Provincial Park and you can come with us and see the old Indigenous carvings in the rock by yourself.
Please contact Pastor Judith (pastorkierschke@gmail.com) by Easter.
See you!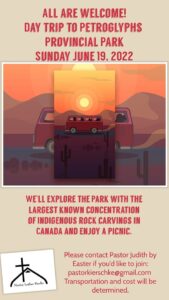 February 2022
Starting February 6th we celebrate worship service back in our church again in english and german. Please look in the calendar down this page for the times. Sometimes we have a joined service or are going for a trip.
The services will be recorded and you can watch them afterward online.
JANUARY 2022
Dear Sisters and Brothers in Christ,
and again, unfortunately, we have to close our church for In Person services.
Throughout January there will be no services in the church due to the tense Corona situation. However, there will be online worship services that you can watch on YouTube and Facebook. A link to the services can be found on our homepage.
If you would prefer to receive a printed sermon by letter, please contact Pastor Kierschke: 613.748945.
Stay blessed and healthy
Pastor Judith Kierschke
Translated with www.DeepL.com/Translator (free version)
APRIL 2021
Dear Sisters and Brothers in Christ
Once again we are in lockdown. This means that we will not be celebrating any services together in the church during the month of April.
One exception is the Good Friday service. If you have pre-registered online for the Good Friday service, you can come to the German service at 10 am or the English service at 3 pm.
Easter we will celebrate a joint German/English service outside in our parking lot at 11AM!!!!
Please bring your own chairs!
You are also welcome to use our online service:
For a Good Friday devotional, please follow this link:
https://www.youtube.com/watch?v=BnQVs7IkP8I&t=2s
and for Easter Sunday please follow this:
https://www.youtube.com/watch?v=sBiWLBHwOVY&t=4s
Stay healthy, stay blessed and celebrate the resurrection of Christ!
Your Martin Luther Church
Pastor Judith Kierschke
Dear Sisters and Brothers in Christ,
after the lockdown has been suspended as of 2/16/2021, there will be services again at Martin Luther Church as of Sunday, 2/21/2021.
Please wear your mask and keep your distance. We look forward to seeing you all again.
Even though we will worship together again in the church, as long as the Corona situation lasts, there will be videos of each service as well.
You can find the videos on Youtube under Pastor Judith
https://www.youtube.com/channel/UCm_I8wYglArQZP_rf0F2jUA
CHRISTMAS 2020
We are wishing you all a Blessed Christmas 2020!
Here you can find our Christmas Service online with the Nativity Play:
https://www.youtube.com/watch?v=wcW5599vYH8&t=2s
Stay healthy and blessed!
August
Dear Sisters and Brothers in Christ,
unfortunately there are still no services in our church in August. We are working and hoping that church services will be possible again in September,
under special conditions.
Until then I offer online devotions every Sunday. You can find them on this homepage, also on the congregational Facebook Page or on my Youtube Chanel: "Pastor Judith".
https://www.youtube.com/channel/UCm_I8wYglArQZP_rf0F2jUA
In addition, every Wednesday evening in August I offer a small video on the Letter to the Philippians. In August we read the entire letter (4 chapters) once. If you are interested, we would be happy to conclude with a zoom meeting for this Letter from Paul, perhaps with open questions or comments on your part.
Please do not hesitate to call me if you have any questions or things need to be discussed (same number as Pastor Demke in Ottawa).
You Pastor Judith Kierschke
News
Have a look at "News" to see the latest posts for you. Since our church had to close due to the virus crisis, you will for example find a devotion from Pastor Demke every Sunday. The devotion (video) from our church on June 28th is the last online service with him. From August 1st, Pastor Judith Kierschke will start her ministry in our congregation.
In July you may find links to other worship services online here: http://elcic.ca/publichealth/livestreaming.cfm
God's blessing!
Annual General Meeting postponed
Due to the corona virus crisis the Annual General Meeting of the church will not be held in April and has been postponed. It is tentatively scheduled for September 27. Confirmation of this date is of course dependent on the outcome of the crisis.
Donations while the church is closed
Dear members of Martin Luther Church,
I write to you in a time of challenge, fear, and uncertainty. Our lives have been turned upside down by the events of the last number of days and weeks. A closure of this magnitude has never occurred in the history of this church or any other church in this area.
It is unknown how long this period of closure will last. It could be several weeks or several months. COVID-19 will have a long-lasting and far-reaching effect on the economy. All churches will feel this impact and we are no exception. Unlike some sectors of the business community, as a registered charity we cannot expect to be rescued by a government bailout. While the church is closed, the fixed cost keep running. We severely feel loss of weekly income coming from donations given during the service.
As ministry will continue the best way possible, I cannot stress enough how important it will be to continue to make our offerings. We will someday open again, and when we do, we must ensure that church is prepared and ready to resume normal operations. Currently, there are numerous ways to give
1.    Visit our website and click the donate button
a.     Search for our website: www.glco.org
b.    Click on menu, then
c.     Click on "Donations", then
d.    scroll down to and click on "donate now'
e.     then follow the prompts to add amount and personal details. That's it.
2.    Mail envelopes to the church
a.     If Canada Post is running, you can mail envelopes directly to the church office.
Mailing address:
Martin Luther Church
933 Smyth Rd
Ottawa, Ontario
K1G1P5
3.    Drop envelopes off at church
a.     If the church building is locked, you can drop off envelopes into church mailbox. Someone will be checking the mailbox regularly.
4.    Secure Online Credit Card option through the ELCIC National Office.
a.     To use this option at https://secure.elcic.ca/.
b.     Select the ELCIC General Fund
c.      In the "Personal Message", type; "for the Martin Luther Church, 933 Smyth Rd, Ottawa, Ontario, K1G1P5 "
d.    Fill in the remaining fields
e.     The National Office will assume all processing costs and pass on 100% of money received at this time to our congregation.
If you need assistance with these options or have any questions at all, please do not hesitate to reach out and call the Pastor at 613 7489745. The days, weeks, and months ahead will be a challenging time for us, but I know when we pray, work, and give in GOD's name, we can make it through the darkness.
Yours
Konrad von Finckenstein
Co-President
Martin Luther Church
Martin Luther Church is suspending all its services
Dear sisters and brothers in Christ,
Following the ELCIC guidance the Martin Luther Church of Ottawa is suspending all its services until the Covid-19 virus crisis is over.
All activities in the church building by the church or some of the users of the church will cease until further notice. We don't want to feel you left alone, so do not hesitate to call your Pastor Friedrich Demke at 613 748 9745 or use the email pastorDOTdemkeATgmailDOTcom
For your information we will attach the letter from the Bishops of our Church here: Letter of the Bishops
Your Presidents
Sonny Lapointe/ Konrad v. Finckenstein
Coronavirus information
Here are two links that offer good and reliable information.